Tombow Pencil Co., Ltd. (Headquarters: Kita-ku, Tokyo, President: Akihiro Ogawa) manages the "FUN ART STUDIO" platform to promote art. The "#FUNARTstage" campaign to solicit entries for visuals started December 2nd (Thursday).
"#FUNARTstage" is a project born from the desire to "create a new place for young artists to play an active role." While the number of places for physical exhibitions and work presentations is still decreasing, it is possible to share "exciting things" and "attractive things" with many people wherever they are because they are online.And so it is an era in which various people can communicate and mix with each other transcending the boundaries of professionals and amateurs.
This time we have tied up with artist GReeeeN to support this project and are soliciting entries for a main visual for their new song scheduled to be released in the spring of 2022.
The entry that wins the Grand Prix will actually be used as the main visual content for the music's distribution.
To participate, read the message sent by GReeeeN on the campaign site, create a work with the water-based graphic marker "ABT", attach the hashtag "#FUNARTstage", and enter by posting on your Instagram page.
(Campaign site: https://tombow-funart.com/sp/funartstage/gn/)
The entry period is from December 2nd to January 5th, 2022. Anyone, professional or amateur, can enter. The Grand Prix work will be used as the distribution jacket for the new song "GReeeeN" schedules to release in the spring of 2022. In addition we have a GReeeeN member award (4 winners) and an ABT award (1 winner).
Message from GReeeeN
GReeeeN will release a new song next spring.
This new song is currently in production, but we will share the image with you when soliciting distribution jackets.
This work is a love song.
In this vast world and at this moment, the odds of meeting a special person and having feelings for each other are immeasurably small, like a starry sky where hundreds of millions of stars sparkle in the sky. Which stars overlap to transcend time and space is a fate decided by chance.
Two coincidences are connected and one inevitability that weaves together is a magnificent story.
A love song is not only happy but it also feels the strength of the determination to live with the sadness and sorrow of everyday life.
It can be a landscape, a person, or an image.
Feel free to draw as you feel.

<Awards and Prizes>
Grand Prix (1 Winner)
・ Adopted for GReeeeN new song's main visual
・ Comments from each GReeeeN member
・ GReeeeN color ABT 6 color set (original package)
・ [Prize money] 50,000 yen

GReeeeN Member Award (4 Winners)
・ Comments from each GReeeeN member
・ GReeeeN color ABT 6 color set (original package)
ABT Award (1 Winner)
・ FUN ART STUDIO special set
(ABT all 108 colors, Fudenosuke Color all 10 colors, Irojiten color pencils 24 color set, etc.)

<Application period>
December 2, 2021(Thursday)-January 5, 2022 (Wednesday)

<About Creation of submitted works>
・Create mainly with TOMBOW Pencil water-based graphic marker ABT. Also possible to use other art materials.
・Graphic processing with image editing software is also possible.
・Final size must be a 200mm(L) x 200mm(W) square.
・When applying digital data, please create the data at 200mm x 200mm and resolution of 350dpi.
For details please see "Application Summary" on the campaign site.
URL:https://tombow-funart.com/sp/funartstage/gn/

<How to Apply>
STEP1: Read message from GReeeeN and imagine the song.
STEP2: Create GReeeeN's new song jacket using ABT
STEP3: Follow the official Instagram account (@tombow_art_official).
STEP4: Post your work on Instagram with the hashtag "#FUNARTstage".

---

<About GReeeeN>
(Affiliation: High Speed Boyz Co., Ltd., Record company: Universal Music GK)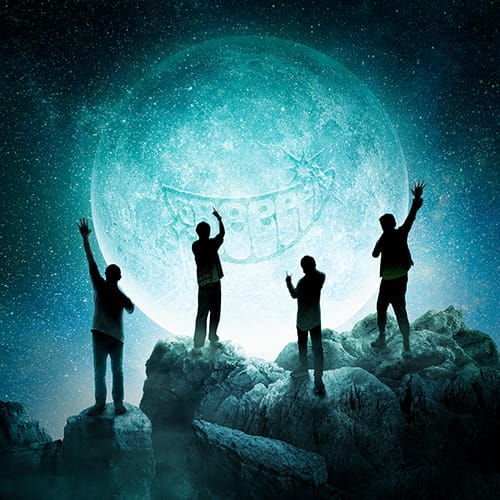 HIDE, navi, 92 and SOH; a 4 member male vocal group formed in Fukushima prefecture.
All members are dentists and want to keep their professions separate in public.
GReeeeN has produced numerous hit songs since their debut, such as "Aiuta","Kiseki","Haruka" and "Orange". "Kiseki" still holds the Guinness record as the most downloaded, sold single in Japan.
In addition to songs the book "It's Kiseki~The Story of GReeeeN~" (written by Narumi Komatsu) and the big hit movie "Kiseki-Sobito Day" (starring Matsuzaka Tori and Suda Masaki as double leads) has attracted attention to the "Way of Life".
In January 2017, which marked the 10th anniversary of their debut, they performed a live at the Saitama Super Arena. Their tour mobilizes tens of thousands of fans every year. (No tour in 2020 due to new coronavirus infection prevention measures) In September 2019, they held their first overseas performance in Shanghai, China, which was a great success.
2020: Theme song for NHK TV series "Ale".
2021:Theme song for Sunday Theater "TOKYO MER ~ Mobile Emergency Room ~" (TBS series).
(Official HP:http://greeeen.co.jp/)
---

<About FUN ART STUDIO>
"FUN ART STUDIO" is a platform that disseminates varied content with the concept of "making art more familiar".An Instagram site was created in 2018 and currently has 62,000 followers. A website was created in 2019. A wealth of hand-painted works such as hand lettering and illustrations using the water-based graphic marker ABT have been published. The sites also provide general information on familiar hand-drawn art such as drawing processes, tips, and recommended tools.In addition, we regularly undertake campaigns to generate interested in art from different perspectives, such as collaborations with various artists.
web : https://tombow-funart.com
Instagram:@tombow_art_official (https://www.instagram.com/tombow_art_official)
---

<About the water-based graphic marker "ABT">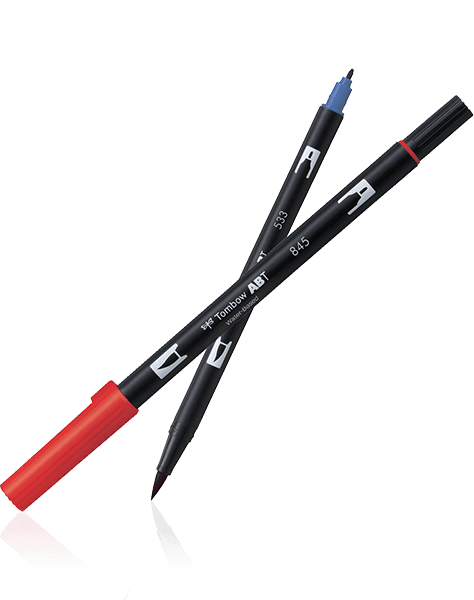 "ABT" is a twin-type water-based graphic marker equipped with two pen tips, a brush tip and a fine tip.Since its birth in 1984, it has been supported in various art scenes around the world. The nylon fiber brush tip does not easily lose shape, and can dynamically express rhythm and intonation like a brush.The polyester fine tip can draw ultra-fine 0.8mm lines, and is suitable for writing letters and expressing details. The ink is a water-based dye ink that develops vivid colors and expands the range of expression by mixing colors or blurring with a pen. Currently a total of 108 colors are available.
https://www.tombow.com/sp/abt/