Tombow Pencil Co., Ltd. (Headquarters: Kita-ku, Tokyo, President: Akihiro Ogawa) published the 2022/2023 version of the "Tombow Pencil General Catalog" on January 7th. The Web version was uploaded as the same time.
There are 1,301 listed products with a total of 320 (text) pages; all color, A4 size. Forest certified paper was used.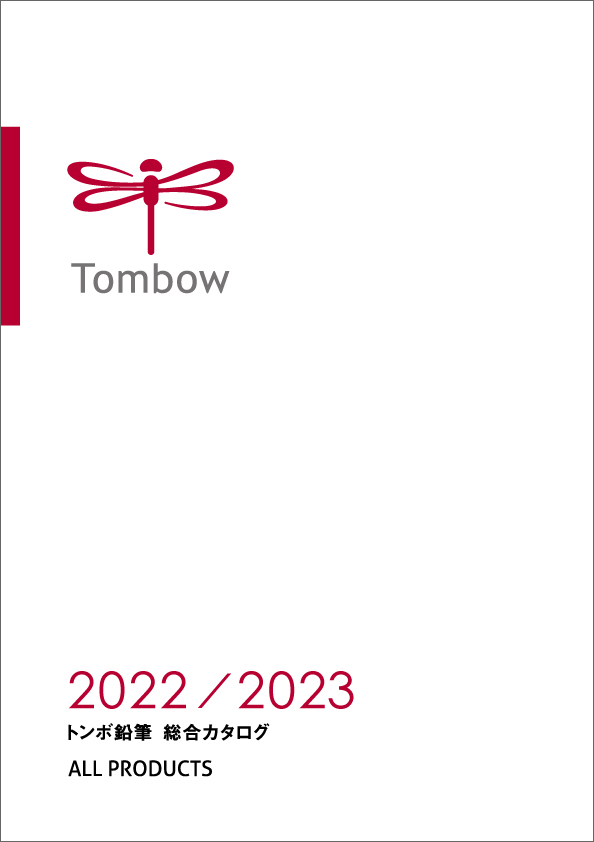 Latest Issue Main features
■ Brand Lineup Pages 2-3
Introducing 16 major brands such as MONO PiT and ABT. Scan QR codes with a smartphone to easily access detailed product brand descriptions.
■ Product Segments and New Products Pages 4-9
Introducing three product segments "writing" "erasing" and "gluing." New products are listed in each category.
■ Environment Pages 10-11
Introducing our environmental efforts. Environmentally friendly products have been added from this issue.
■ FUN ART STUDIO Pages 12-13
Introducing "FUN ART STUDIO" a platform to communicate various types of art content with the concept of "making art more accessible". Compatible with AR (Augmented Reality) which plays back the lettering and illustration creation process as a video when holding a smartphone over the 5 posted works (using the free application COCOAR) = explanation to below.
■ Product list at the beginning of each category. For example at the beginning of ballpoint pen on pages 16-17, 14 products and 14 refills are listed. Easy to compare and examine designs, specifications, prices, applications, etc.
■ Barcodes are listed at the back of the catalog on pages 263-302. Product images are shown as well as product barcodes and basic product information (product name, price, product number, distribution unit, etc.). This enhances visibility and helps speed up ordering.
Web Version 2022/2023 Edition General Catalog
Web version 2022/2023 edition general catalog is posted on our website
It can be viewed in a book format that turns pages in the same way as printed matter. PDF download is also possible.
https://my.ebook5.net/tombow/catalog2022_2023/
Brand Line Up
Link to web page with QR code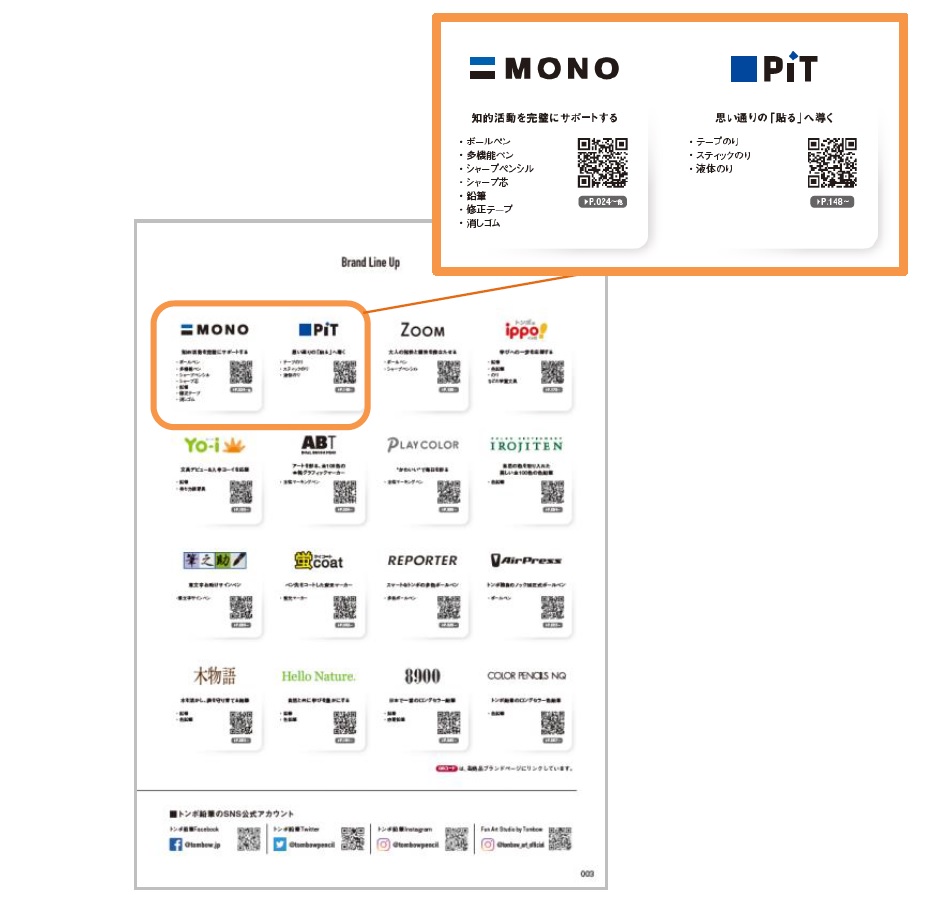 New products are listed in each category
Introducing FUN ART STUDIO
View the creative process as a video with AR (Augmented Reality)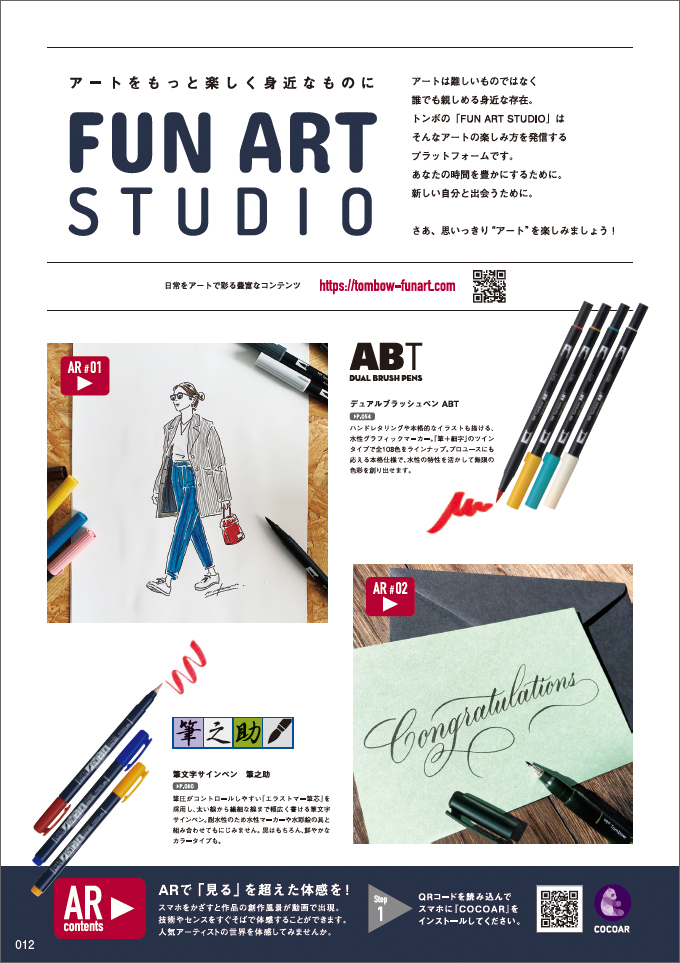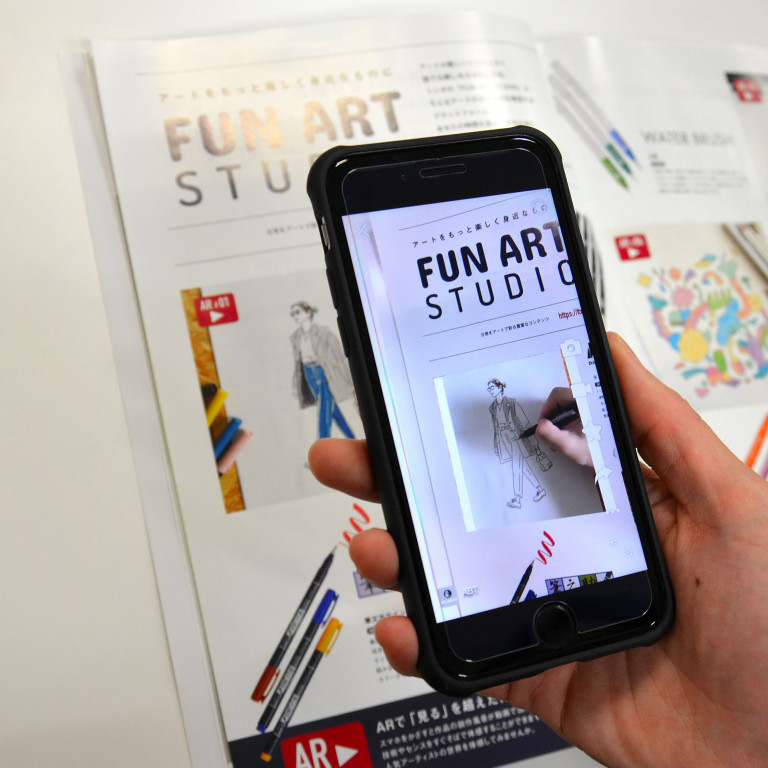 Install and open the "COCOAR" app on a smartphone. Hold a smartphone over the designated mark on the content and the creative process of the work will appear in the video.